JH Band Audition Requirements
Notice to Directors
Due to copyright laws, the photocopied audition excerpts are no longer posted on the website. The cycle list is posted below the chromatic ranges for each instrument.
The audition material for wind instruments is excerpted from the INTERMEDIATE RUBANK METHOD book.
The audition material for mallet instruments and timpani are excerpted from the AUDITION ETUDES book by Garwood Whaley.
All audition material for Snare Drum is excerpted from the Basic Drumming book by Joel Rothman.
Percussionists are encouraged to audition on all three instruments. Students must audition on Snare Drum and Timpani. Mallets may be auditioned separately or in addition to SD and Timpani.
Mallets: Play the excerpt plus chromatic scale (Roll Up/Single Tap Down)
For the Drum Audition, record the timpani, then record the snare drum audition.
Auditions for 2023-24
Cycle #1 Excerpts @ Marked Tempo
Chromatic Scale @ 90 bpm (Slur Up/Tongue Down). Play required range or extended range. Trombone uses legato tonguing.
Percussionists: Students must audition on Snare Drum and Timpani. Mallets may be auditioned separately or in addition to SD and Timpani. Mallets: Play the excerpt plus chromatic scale (Roll Up/Single Tap Down)
Audition Excerpts
Cycle 1 - Odd Years - 2021, 2023, 2025, etc
Cycle 2 - Even Years - 2022, 2024, 2026, etc
Chromatic Ranges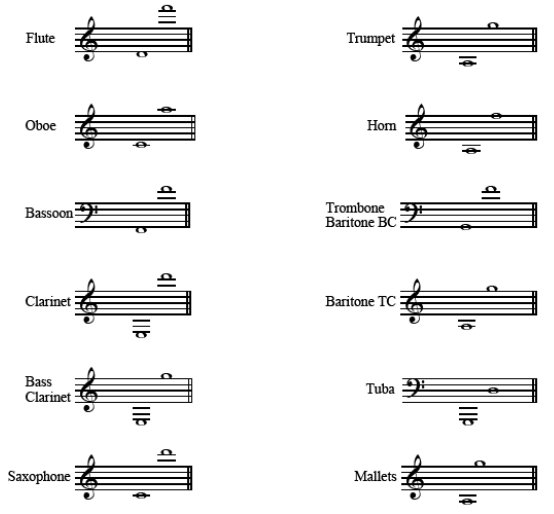 Audition Cycles
Instrument
Cycle #1
Cycle #2
Flute
Pg. 9 . 1st part of duet . pick up to m. 17 to end . mm=88
Pg. 6 . Etude #2 . All 4 lines . mm=100
Oboe
Pg. 13 . Etude #3 . All 3 lines . mm=88
Pg. 20 . Etude #5 . All 3 lines . mm=60
Bassoon
Pg. 13 . Etude #1 . All . mm=72. Take 2nd ending, end on 'C' before the D.S.
Pg. 18 . Etude #5 . All . mm q. =60
Clarinet
Pg. 19 . Pick up to letter D to the fermata m. 35
Pg. 50 . Andante Cantabile. Top part of duet from the beginning to the fermata high A
Bass Clarinet
(from Clarinet book)
Pg. 13 . Etude #2 . First 12 measures . mm=108
Pg. 28 . Etude #3 . Play 2nd part of duet . No repeats . mm=120
Saxophone
Alto, Tenor & Bari
Pg. 13 . Etude #5 . All 4 lines . mm=88
Pg. 18 . Etude #5 . All 4 lines . mm=108
Trumpet
Pg. 32 . Gavotte . 1st part of duet . No repeats . mm=120
Pg. 44 . Austrian . 1st part of duet . All 4 lines . mm=88
Horn
Pg. 11 . Etude #2 . All 4 lines . No repeats . mm 120
Pg. 34 . Legato Etude . 1st part of duet . All 3 lines . mm 108
Trombone/Baritone BC
Pg. 13 . Etude #2 . All 4 lines . mm 120
Pg. 9 . Etude #3 . Beg to 3rd line meas 5 . mm=92
Baritone TC
(from Trumpet book)
Pg. 12 . Etude #2 . All 4 lines . mm 120 (m.29 B is natural)
Pg. 8 . Etude #3 . Beg to 3rd line meas 5 . mm=92
Tuba
Pg. 14 . Etude #4 . All 4 lines . mm=104
Pg. 38 . Etude #2 . All 4 lines . mm=76
Mallets
Bells, Xylophone or Marimba
Pg. 19 . Etude #1 . Last 3 lines . mm=120
Pg. 19 . Etude #2 . 1st 16 measures . mm=60
Snare
Original Book (Revised Edition in parentheses)
Pg. 49 (p.61) . lines 1-4 . no repeats . mm=100
Pg. 49 (p.61) . lines 7-10 . no repeats . mm=100
Timpani
Pg. 12 . Etude #1 . 3rd line to end . mm=120
Pg. 12 . Etude #2 . 3rd line, 2nd measure to end . mm=112